Partnership Plan for NDC Implementation: Connecting the Dots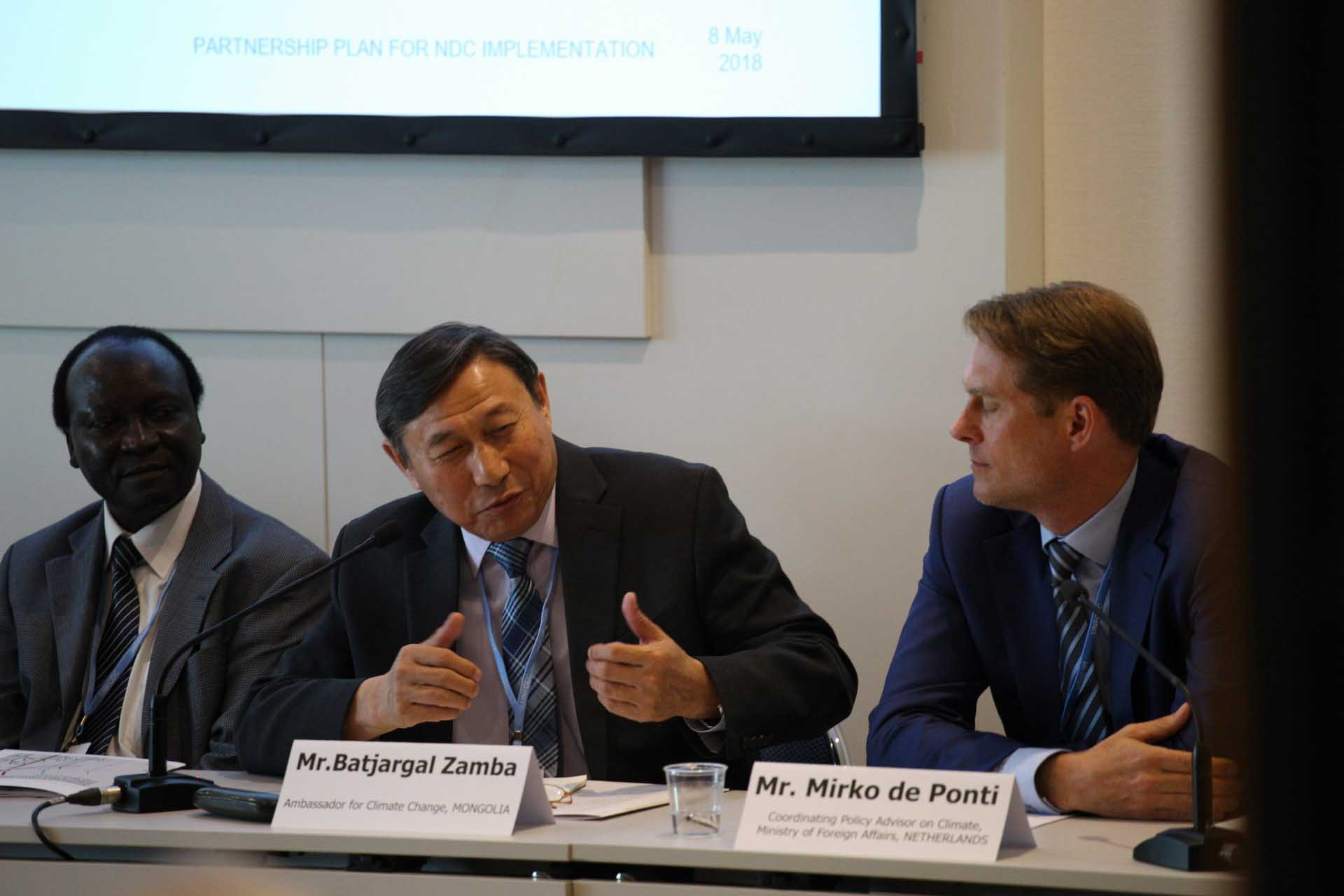 A key component of the NDC Partnership's in-country engagement work is the development of a Partnership Plan. At its core, the Partnership Plan matches needs identified by country governments with resources from other Partnership members and relevant stakeholders. It is a government-led process that is designed to be flexible, and support transparency, enhance coordination among in-country and global actors, and mobilize support for NDC implementation.
Several NDC Partnership member countries have developed their Partnership Plans and recognize the importance of sharing their experiences and lessons learned. To that end, the NDC Partnership hosted  a side event, Partnership Plan for NDC Implementation: Connecting the Dots at the 48th meeting of Subsidiary Bodies on 8 May 2018. This event offered six member countries the opportunity to share their unique perspectives and experiences in developing their Partnership Plans along with key considerations for NDC implementation. Additionally, the discussion allowed the audience to ask questions that tackled topics such as gender in climate change, working with global development partners, and challenges faced when dealing with multiple government agencies.
The NDC Partnership Side Event panelists represented six regions of the world and included Honduras, Jordan, Kenya, Mongolia, the Netherlands, and Uganda. The event also brought together audience participants from international institutions, country governments, and civil society actors to reflect on the value and challenges of the Partnership Plan as a tool to implement and enhance ambition of NDCs.
Ms. Dina Kisbi, Director of Climate Change Directorate, Ministry of Environment of Jordan, spoke about the challenges in intergovernmental and donor coordination and how the NDC Partnership is supporting NDC implementation. She expressed that Jordan's NDC is a combination of adaptation and mitigation actions which are included in a National Adaptation Strategy, National Green Growth Road Map, and climate change bylaws that are working to increase intersectoral data sharing. She explained that the development of the Partnership Plan in Jordan will follow a participatory approach, which will ensure all stakeholders have a sense of ownership in the process and the plan. With clear deliverables, roles and responsibilities of key stakeholders will be made more transparent through the Partnership Plans This is expected to result in better coordination amongst the NDC implementation actors, both national and international.
Kenya is in the process of revising its flagship National Climate Change Action Plan (NCCAP), which will serve as the Partnership Plan. Mr. Peter O. Odhengo, Senior Policy Analyst, Climate Finance at the National Treasury, explained that Kenya is taking a lead in creating country driven and country resourced legislative and policy frameworks for climate action. Mr. Odhengo highlighted that, "The NDC Partnership brought a plethora of actions and activities and energized the partners and coordination framework which now moves the actions which are required to take the development of the [NCCAP] action plans to the next level." Kenya is integrating climate action into the public budget through its National Climate Finance Policy and designing resource mobilization strategies to implement its NDC, such as the National Climate Change fund. Mr. Odhengo emphasized that now is the time for action and promoting low carbon development and resilient communities at the local level.
Uganda boasts the first Partnership Plan in Africa, and Mr. Chebet Maikut, Commissioner at the Climate Change Department of Ministry of Water and Environment of Uganda, explained that the Partnership Plan process has being useful to create a cohesive and objective plan to implement Uganda's NDC. The Partnership Plan has also aligned and coordinated support from development partners. Mr. Maikut explained that the Partnership Plan outlines five outcomes with 49 outputs, and that Uganda is ready to implement the Plan, but they need partner support. Using the Partnership Plan as a convergence tool to align demands and supply of priority NDC actions, partners have already responded to 39 outputs. One of the challenges Uganda is seeing is a loss of time when engaging with different partners. Mr. Maikut stated, "We need to minimize lost time and have a short cut to action…If we are to increase ambition we need to move fast and show results on the ground."
Ambassador Batjargal Zamba, Special Envoy for Climate Change for Mongolia, highlighted how the country's efforts to automate the Partnership Plan through an online portal will be important to coordinate and mobilize support, and promote transparency across the different stakeholders involved in NDC implementation. Mr. Zamba enumerated benefits of the online platform, including the availability of all relevant information regarding climate change in one place (policies, plans and projects) and its support to monitoring efforts. Moreover, the platform will have an interactive interface to allow government counterparts and development partners to update and share information on projects, initiatives, and different priorities for sustainable development. "NDCs are not fixed and having an interactive and live tool is important to keep up to the challenge," he said.
As the first country to approve its Partnership Plan, Dr. Marlon Escoto, Presidential Delegate for Climate Change of Honduras, emphasized that as the country is amongst the most vulnerable countries to climate change in the world, it needs to integrate climate change into its development strategy. Dr. Escoto presented important institutional enablers for coordinated climate action such as the creation of the Presidential Office for Climate Change, the establishment of climate change units within key government institutions, and the creation of a multi-stakeholder national commission on climate change. These enablers are important to assure that NDC Partnership support is aligned to national institutions, assuring sustainability and ownership. Dr. Escoto highlighted as benefits of the NDC Partnership its contribution to rethink and influence the development model of the country; increase efficiency of international support; strengthen national institutions; and benefit from international experiences.
The Netherlands has been supporting the NDC Partnership since its inception. Its representative, Mr. Mirko di Ponti, Coordinating Policy Advisor on Climate, Inclusive Green Growth Department at the Dutch Ministry of Foreign Affairs, was impressed by the progress in terms of the growth of the NDC Partnership and action on the ground. He brought with him the perspective of a development partner and Steering Committee member, emphasizing how the country engagement process contributes to improving donor coordination and transparency and encouraging a multi-stakeholder approach. The remaining challenge is the supply side, where Mr. di Ponti expressed the need for development partners to step up to the challenge. To show that the Netherlands is walking the talk, he offered support to facilitate country engagement work in Jordan and Uganda.
As a sneak-peak to COP24, this event was an informative discussion on the successes and challenges of Partnership Plans. As a country-led initiative, the NDC Partnership welcomes this constructive feedback to ensure that Partnership Plans meet the needs of its member countries.  And as Pablo Vieira, Global Director of the NDC Partnership Support Unit, explained, "The NDC Partnership is a partnership that is open…we are not closed to working with anyone …if we work together we can generate that collective impact…we invite everyone, every initiative, every institution, every country to be part and to work together in the implementation of the Paris Agreement."
The NDC Partnership thanks our panelists for participating and sharing in our side event and to NDC Partnership Support Unit Head of Communications, Andrea Risotto, for moderating the panel.
We invite you to view the event video and continue the discussion on NDC implementation and Partnership Plans on Facebook, Twitter, and LinkedIn.
This blog was written by Country Engagement Specialists Sydney Stevns and Joaquim Leite.