Five Highlights from the NDC Partnership at COP24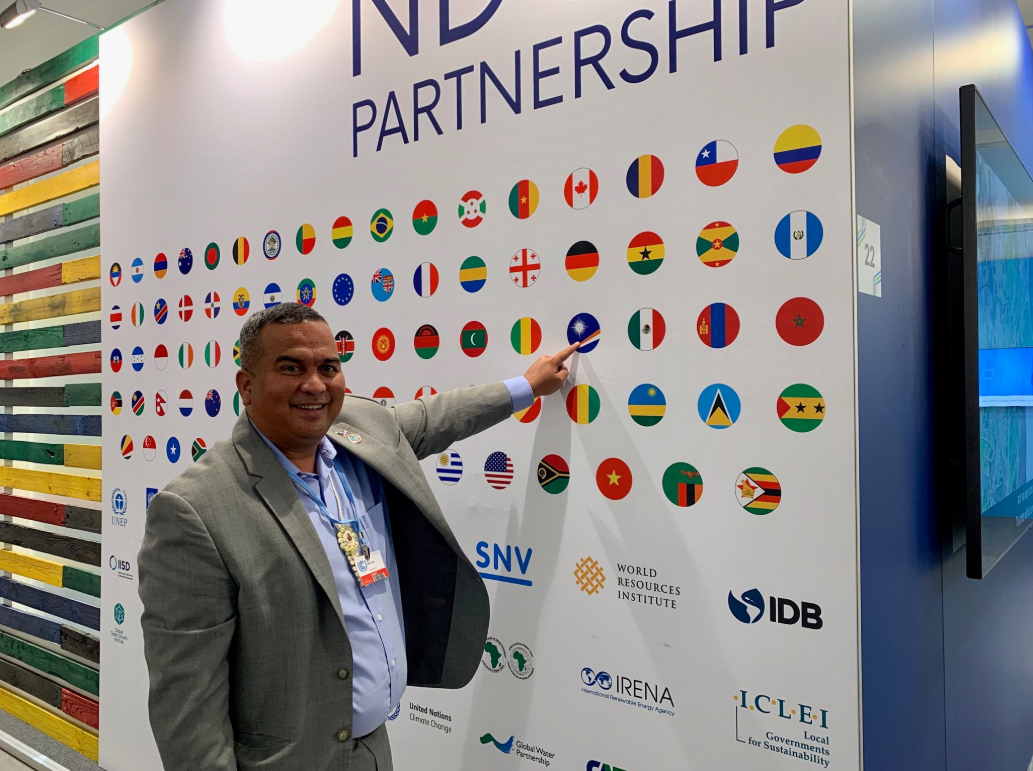 At the end of every year, the UN Framework Convention on Climate Change Conference of Parties (COP) becomes a platform for countries to discuss what they are doing and what more needs to be done to achieve global climate goals. In the months prior to COP, announcements, projects, and commitments are pulled together to showcase how countries are carrying forward the Paris Agreement on climate change and actively seeking new partners, areas for collaboration, and support to turn ambitions into action and lay the groundwork for attaining future targets.  
The NDC Partnership, as the largest global coalition dedicated to implementation of nationally determined contributions (NDCs) under the Paris Agreement, leveraged this year's COP24 to convene members to share important lessons that inspire and encourage greater collaboration and coordination toward global climate goals. Here are just five highlights from the NDC Partnership's engagement at COP24:  
Welcoming New Co-Chairs and Steering Committee 
At the Annual Member Forum on the sidelines of COP24, the NDC Partnership welcomed new Co-Chairs and some new Steering Committee members. The German Parliamentary State Secretary to the Federal Minister for Economic Cooperation and Development, Maria Flachsbarth, and Moroccan State Secretary in charge of Sustainable Development, Nezha El Ouafi, announced that the Republic of Costa Rica and the Kingdom of the Netherlands will assume the role as NDC Partnership Co-Chairs for the years 2019 and 2020. The Partnership also welcomed some new Steering Committee members including Uganda, Sweden (in a shared seat with Denmark), and the Inter-American Development Bank as the 2019 representative for the multinational development banks. Denmark (in a shared seat with Sweden), France, Germany, Morocco, the Republic of the Marshall Islands, Viet Nam, the World Bank Group, and the UN Development Programme (UNDP) will continue to be on the Steering Committee.  
Read the press release announcing the new NDC Partnership Co-Chairs. 
Hosting the First-Ever NDC Partnership Pavilion 
With two years of global collaboration for climate action, the NDC Partnership hosted its own pavilion at COP24 so members could share their progress on implementing and supporting NDCs. The NDC Partnership Pavilion gave space for members to present their work, learn from other countries and institutions, and network with other members and stakeholders. Over the course of COP24, the NDC Partnership Pavilion hosted over 50 events organized by its country, institutional, and associate members.  
View this photo album capturing key moments from two weeks of events in the NDC Partnership Pavilion. Recordings of a number of Pavilion events are also available to watch on the NDC Partnership Facebook page.   
Seven Country Members Launched Partnership Plans 
Throughout 2018, the NDC Partnership worked with over 35 countries to put NDC commitments to action by developing Partnership Plans that identify country priorities to mobilize support and implement and achieve these goals. Partnership Plans are the result of extensive stakeholder consultation, negotiation, and vetting prior to their approval and release.  
At COP24, seven country members unveiled their Partnership Plans to the international community, demonstrating how they are aligning policies, budgets, and project pipelines to achieve ambitious national climate and development goals. The countries included Guatemala, Kenya, the Dominican Republic, Mali, the Marshall Islands, Morocco, and Viet Nam. In launching their Partnership Plans in locally contextualized and tailored ways, these countries are laying the groundwork for faster action, through bringing more of government, society, the development community and the private sector toward low-carbon, climate resilient visions of the future, and starting today.  
These Partnership Plans are proof that countries are working to achieve their NDCs and that by setting clear goals with coordinated support, they are capable of raising ambition and achieving greater climate action. Fifteen plans were launched throughout 2018. 
Reflecting on Two Years of Action 
To celebrate two years of coordinated global climate action at the country level, the Partnership brought together high-level member representatives, including ministers, high-ranking officials, heads of organizations, and the press for a celebration entitled "NDCs in Action: the NDC Partnership Two Years On." With remarks from Secretary of State Nezha El Ouafi of Morocco, Minister Svenja Schulze and State Secretary Martin Jäger of Germany, Minister Sigrid Kaag of the Netherlands, and Minister Carlos Rodríguez of Costa Rica, this event was also an opportunity to showcase the change in Co-Chairs from Morocco and Germany to Costa Rica and the Netherlands. Interventions were given by several ministers and heads of organizations, all of which reaffirmed a global dedication to accelerating climate action through implementation of NDCs.  
Watch a full recording of the event as well as this video which highlights two years of action through the NDC Partnership. You can also learn more about our work by reading our annual report for 2018: Partnership In Action: Two Years On. 
Relaunch of the NDC Partnership Knowledge Portal 
The NDC Partnership's member countries and institutions bring together a wide range of knowledge and experience, enabling unique opportunities to learn from each other. Providing useful guidance and support for the wide range of climate challenges countries face is no easy task. Over the past year, the NDC Partnership's Support Unit has been engaging with members to explore how better access to knowledge resources can support them to accelerate their climate action.  
Reflecting on this feedback enabled the NDC Partnership Support Unit to redesign its Knowledge Portal. The enhanced Knowledge Portal, launched at COP24, draws together the expertise and input from its members and other leading institutions, offering quick access to over 700 knowledge resources through an easily searchable interface. In addition to expanded content and a more intuitive user experience, the Knowledge Portal now also houses the Good Practice Database, a joint effort between LEDS GP, the Partnership on Transparency in the Paris Agreement, the IKI NDC Support Cluster, and the UNDP NDC Support Program, which draws together examples of successful climate action and lessons learned where countries have overcome obstacles, to enable countries to learn from one another. 
Read more about the redesign and watch a recording of the COP24 NDC Partnership Knowledge Portal launch event. 
COP24 included the NDC Partnership's most active engagement to date with a lot of opportunities for knowledge sharing and collaboration. It was a successful reflection of the work achieved in 2018 and set the stage for the work to be done leading into COP25 in Chile.   
This blog was written by John Heermans, NDC Partnership Support Unit Senior Country Specialist, and Taylor Robb-McCord, NDC Partnership Support Unit Communications and Marketing Specialist.