Green Recovery for Practitioners: Examples From Around the World for Building Forward Better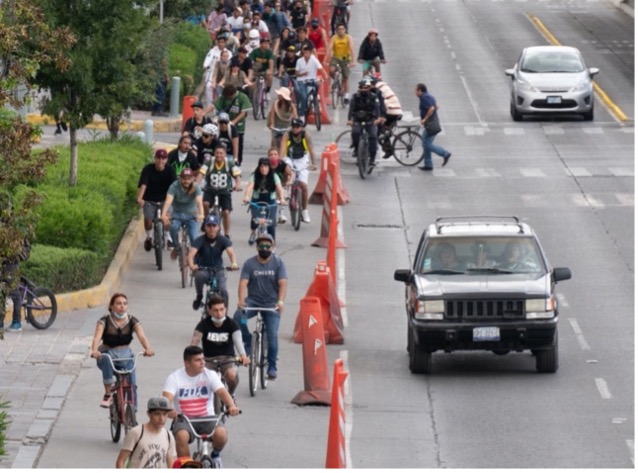 Since the COVID crisis began more than a year ago, several programmatic approaches have emerged to integrate climate and biodiversity concerns into countries' response measures (e.g., Green Recovery, Build Forward Better, Green Renaissance, and Recover Better).
A new report developed in contribution to the NDC Partnership's Economic Advisory Initiative highlights examples from around the world of how communities, cities, and countries are responding to COVID by putting green recovery into practice.
Green Recovery for Practitioners provides information and inspiration on the practical implementation of a green recovery in more than 20 countries, particularly in developing countries and emerging economies, and shares lessons learned from these experiences. It includes 23 snapshots of green recovery examples on a wide range of sectors and approaches, organized into six thematic areas:
Alignment and reform of national planning

Economic, monetary and fiscal tools

Just transition and employment

Local action and sustainable urban development

Nature-based solutions, supporting biodiversity and sustainable agriculture

International cooperation and financing
These case studies were prepared based on an identification of common needs for thematic and technical assistance expressed by countries receiving support through the Economic Advisory Initiative. The 23 examples featured in the report provide implementation insights and highlight lessons learned to help the advisors as they continue their work to determine practical steps for taking green recovery planning from ambition to action.
For instance, in Indonesia, a team of economic advisors is preparing a multi-sector approach supported by Germany under the NDC Partnership's Economic Advisory Initiative. Proposed green recovery activities will focus on regenerative agriculture, waste management, and solar power (see snapshot #3).
In the city of León, Mexico, green recovery was an opportunity to transform urban mobility as the city established pop-up bike lanes, along with measures to ensure their public acceptance (see snapshot #13 in the report).
In Kenya, Ethiopia, and Ghana, green recovery is being realized through improved waste management and recycling with support from the new 'Circular Economy 4 Africa' (CE4Africa) initiative. This initiative was formed to strengthen waste value chains and create new and improved jobs. The recycling business TakaTaka Solutions is one enterprise the initiative supports (see snapshot #10).
| | |
| --- | --- |
| Pop-up bike lanes in León, Mexico, © Jorge Balleza/GIZ | Recycling operations at TakaTaka Solutions in Kenya, ©Peter Ndungu/TakaTaka Solutions |
Several key takeaways emerged from these green recovery experiences:
Striving for agenda coherence between climate, biodiversity, disaster risk reduction, and sustainable development goals should be the guiding principle for designing and implementing green recovery measures to ensure that they contribute to people's wellbeing and nature-positive development.
Building upon existing initiatives with existing infrastructure, staff, relationships, and stakeholder acceptance creates a strong foundation for quickly launching and implementing green recovery measures.
Creating initiatives from the bottom up, based on local needs, ideas, and solutions, can help improve their durability and success.
Designing nature-based solutions can create new income streams and employment opportunities while enhancing the resilience of ecosystems and livelihoods to climate change.
Pursuing continuous monitoring, evaluation, and improvement can strengthen the outcomes of green recovery activities.
Mobilizing multi-year finance from international funders, particularly in countries with limited fiscal space, can cement the long-term benefits associated with projects.
Replicating and upscaling good practices is needed to drive systemic change. This is only possible through collaboration at all levels, from the local to the global.
Overall, these experiences highlight growing recognition among ministries of finance and planning that climate action requires leadership on a whole-of-government approach, not just by ministries of environment and related sectoral ministries such as energy and forestry. Such support is vital for strong and sustained economic growth, leads to greater net benefits from infrastructure investments, and increases job creation, in addition to supporting NDC implementation. As these and other green recovery efforts are implemented, including through the Economic Advisory Initiative's more than 50 advisors deployed across 34 countries, the Partnership will continue to share practical insights for practitioners to learn from worldwide.
"Green Recovery for Practitioners: Examples from Around the World for Building Forward Better" is the second publication in the three-part series on green recovery developed in contribution to the NDC Partnership's Economic Advisory Initiative. The first report, "Setting the Course Towards a Sustainable, Inclusive and Resilient Transformation", maps out key arguments in support of a green recovery and the various components, stakeholders and instruments it might entail. It is available in English, French, and Spanish.
The forthcoming third report will analyze the fiscal response to the pandemic and identify approaches for integrating climate and biodiversity concerns into fiscal policy making. The publication series is developed in a joint effort by the EU-funded EUROCLIMA+ programme, the BMU-funded IKI Support Project for the Implementation of the Paris Agreement (SPA) and IKI Support Project for the Design and Implementation of the New Global Biodiversity Framework (BioFrame), the Low Emission Development Strategies Global Partnership (LEDS GP) and E3G.
This blog was prepared by Deutsche Gesellschaft fuer Internationale Zusammenarbeit (GIZ) GmbH and the NDC Partnership Support Unit