Overview
In April 2020, the NDC Partnership gathered input from developing country members on how they are planning to move forward with NDC implementation, how COVID-19 will impact their plans for updated NDCs, and how the Partnership can respond to country needs associated with the pandemic recovery efforts. Input was gathered through targeted surveys to Ministries of Finance/Planning and Ministries of Environment/Climate Change in countries where the NDC Partnership is actively engaged. 
Survey Results
Key messages identified through the outreach include:
Reduced climate spending due to the expense of COVID-19 responses, alongside capital flight, revenue loss, and increased debt.
Quality, ambition and revision timeline of NDCs are at risk due to the challenges of collecting and validating data; maintaining communications and decision-making processes; and convening stakeholders.
Stimulus packages may include NDCs, presenting an enormous and immediate opportunity to promote a 'green growth' agenda in developing countries.
Technical assistance is urgently needed, and all Ministry of Finance or Planning respondents indicated their governments would benefit from an embedded economic advisor
Countries are eager to learn from each other, particularly on strategies for deploying special fiscal instruments for economic recovery.
The majority of the respondents indicated their urgent need for economic advisors to support with the preparation of climate compatible recover package. While the terms of reference of the advisors will vary from country to country, their work could include:
Assessing impact of new macro-economic situation on climate agenda;
Supporting cost analysis of new NDCs, taking the economic impact of COVID-19 and recovery mechanism into consideration;
Designing fiscal instruments that can stimulate green growth, including guarantees, regranting, tax credit and expansion, green bonds, refinancing facilities, and others;
Incorporating low-carbon and/or climate resilient shovel-ready projects from NDCs into COVID19 economic stimulus investment plans;
Adapting global recommendations for stimulus to national contexts.
In order to respond to this immediate need, Support Unit, under the instruction of The NDC Partnership's Steering Committee, has prepared a proposal to immediately deploy economic advisors. Find more details on the support offer in the resources listed below. For further information, contact us here.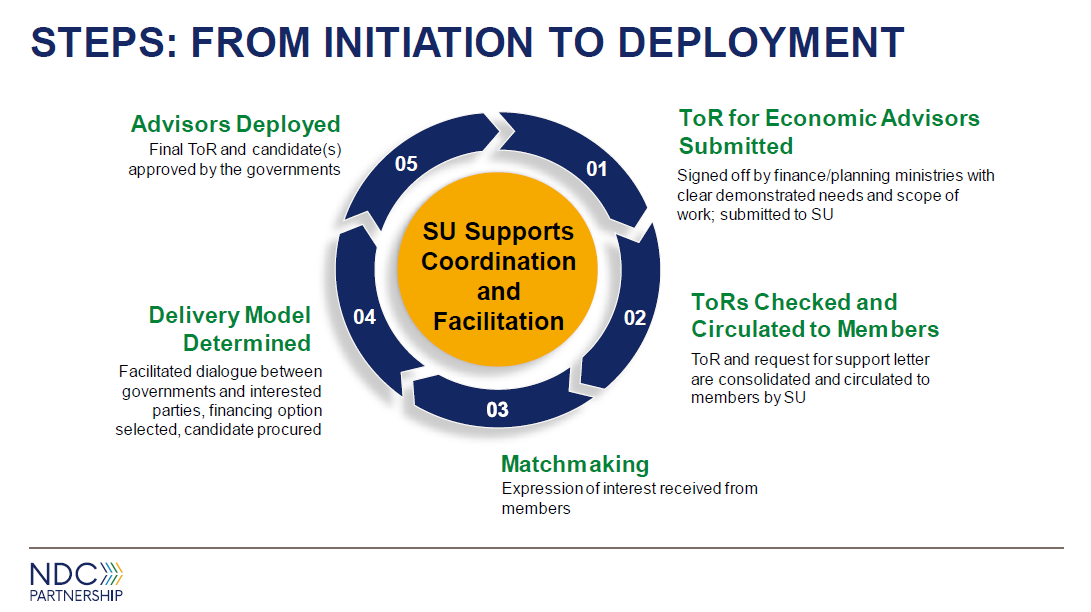 Policy Responses
Using the IMF COVID-19 policy tracker, the NDC Partnership Support Unit has categorized NDC Partnership members' responses by fiscal instrument. This information is updated every two months. With the deployment of economic advisors, further details will be provided on country specific responses in relation to climate goals. The searchable database can be accessed here.