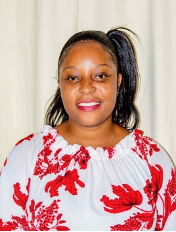 Roberta Makoko

Malawi Facilitator
Roberta Makoko has an Environmental Health and Environmental Science background, and has worked with the Government of Malawi and several Non-Governmental Organizations. To build on this background, she interned with the Environmental Affairs Department 10 years back and worked with AG Relief and Development Services, whose main mandate was response to the impact of Climate Change at community level. She has also worked in the Malawi National Statistical Office; the Department of Nutrition, HIV & AIDS; and One Acre Fund, an NGO that promotes new agricultural techniques and methodologies among small holder farmers in adaptation to Climate Change. She has a Bachelor's degree in Environmental Health and Master's degree in Environmental Science. Roberta is embedded with the Ministry of Forestry and Natural Resources in the Environmental Affairs Department, Climate Change Section.

This position is supported by the NDC Partnership Support Unit.
Join the team
Help us achieve ambitious climate goals while enhancing sustainable development.