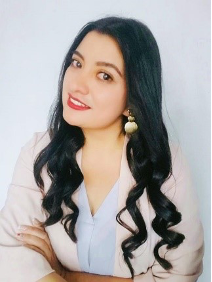 Gabriela Selene Défaz Visuete

Ecuador Facilitator
Selene is an environmental engineer who graduated from the Central University of Ecuador. She obtained a master's degree in International Relations and Diplomacy with a focus on foreign policy from the National Institute for Higher National Studies (IAEN). Selene also holds a master's in Climate Change and Environmental Negotiation with a specialization in Climate Change Policies, Biodiversity and Ecosystem services from he Universidad Andina Simon Bolivar—Ecuador.
Selene has more than six years of public and independent experience in the environmental sector. She has spent most of this time as member of the Ministry of the Environment and Water (MAAE), where she served in various areas, including calculation of ecological footprints, climate change monitoring and evaluation, and projects related to natural heritage. She also provided support and technical recommendations for planning, programming, and project execution, as well as collection, calculation, analysis and generation of environmental indicators and incentives.
In the field of public policy generation, one of her main achievements is the adoption and signing of the Escazú Agreement, considered as the first regional environmental agreement, promoted by ECLAS. In this process, she led construction of the inter-institutional working group for construction of the country's position and represented Ecuador in negotiation meetings in Costa Risa. The agreement was adopted to increase access to information, public participation, and justice in environmental matters in Latin America and the Caribbean.
Prior to that assignment, Selene provided support to the National Climate Change Adaptation Project (PLANACC) in the construction of the Implementation Plan for Ecuador's First Nationally Determined Contribution (NDC). She led the constructing of technical inputs, goals, and indicators of natural heritage for the adaptation component. These activities were carries out with the support of the Deutsche Gesellschaft für Internationale Zusammenarbeit (GIZ) and The Nature Conservancy (TNC).
This position is supported by NDC Support Program and UNDP.
Join the team
Help us achieve ambitious climate goals while enhancing sustainable development.