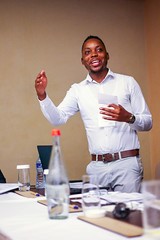 Alfeus Shekunyenge

Namibia Facilitator
Mr. Alfeus Shekunyenge holds a bachelor's degree in Environmental Science and Geology, and a Master of Science in Ecological Mining Restoration from the University of Namibia. He has been involved in different climate change and environmental management projects, and has worked with Ministry of Land Reform and the local governments to develop a land-use strategy for Namibia. Alfeus also worked for the Namibia University of Science and Technology as lecturer under the Faculty of Natural Resources and Spatial Sciences. In addition, he worked for the United Nations Development Programme (UNDP) at the Energy and Environmental Unit that is responsible for promoting environmental sustainability and renewable energy. He was closely involved in the development of the Intended Nationally Determined Contributions (INDC) document for Namibia, that was submitted to UNFCCC Secretariat prior to COP 21.
This position is funded by Germany.
Join the team
Help us achieve ambitious climate goals while enhancing sustainable development.