SIDS Setting a High Bar: Antigua and Barbuda Submits Its Ambitious NDC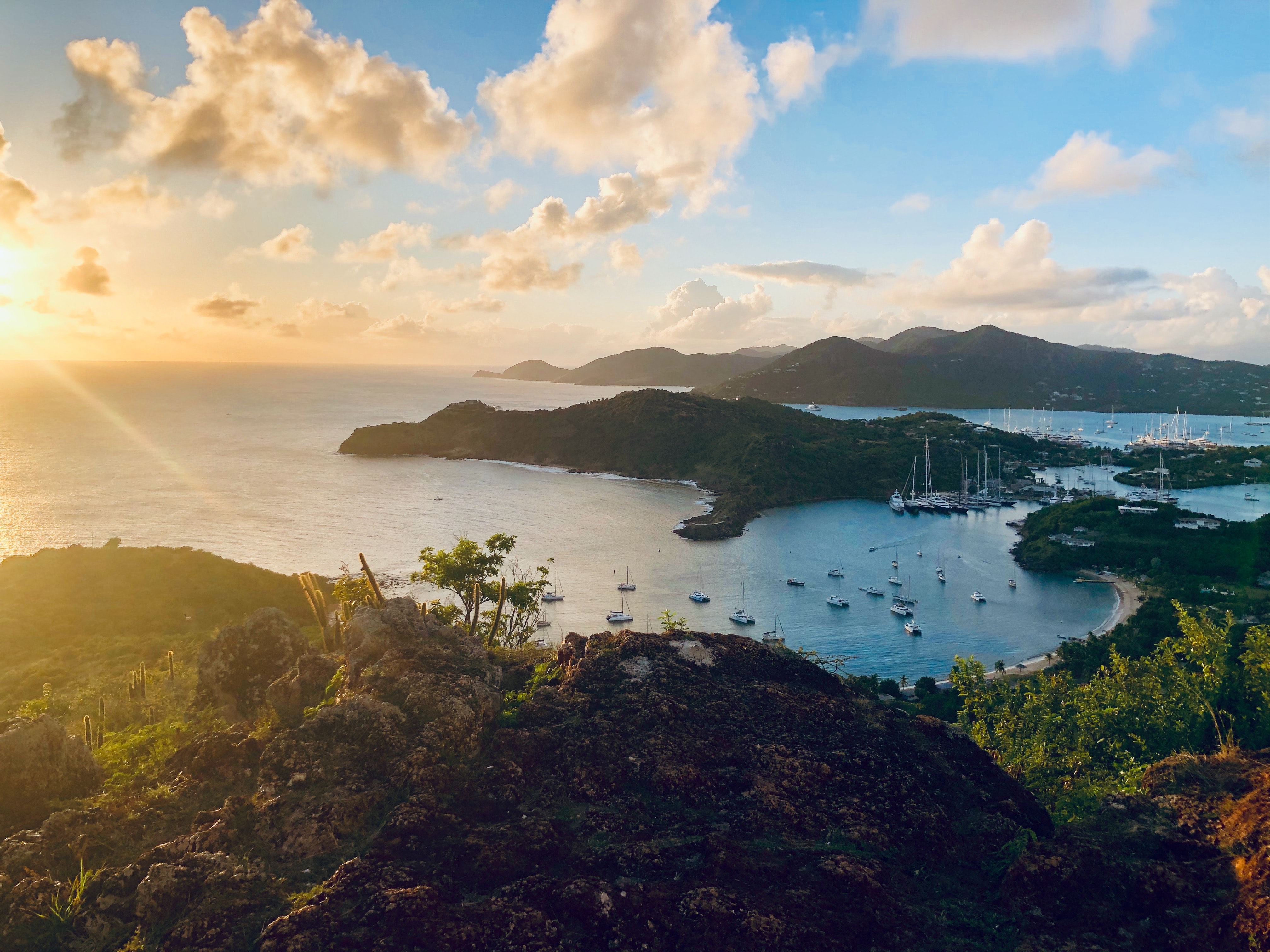 Antigua and Barbuda submitted its updated Nationally Determined Contribution (NDC) becoming the third country in the Organisation of Eastern Caribbean  States (OECS) sub-region to do so and to be included among the more than 100 countries in the world to submit new or updated targets. The country's updated NDC strengthens its first NDC communicated in 2015 and consists of ambitious mitigation and adaptation targets and indicative actions for the NDC implementation.
"Antigua and Barbuda, as a small island developing state, has created NDCs that demonstrate our commitment and vision to creating a low emission, climate-resilient country," said H.E. Diann Black-Layne, Antigua and Barbuda's Ambassador for Climate Change and Chair of AOSIS for Climate Change.
Covering the period from 2020 to 2030, the updated NDC includes targets for mitigation and adaptation especially designed to:
Reduce transitional risks;
Support an inclusive, gender-responsive approach to the energy transition with a special focus on women fully participating in the new economy;
Support youth with a gender-responsive approach for girls and boys of all income levels to meet  the new challenges and opportunities that the  process can provide; and
Provide investment and business opportunities for local micro, small, and medium enterprises (MSMEs) and businesses in the informal sector.
"Our NDC takes a holistic approach that emphasizes the need for the development and diversification of our local economy, promotes disaster risk reduction, stresses the need for the improvement of our biodiversity, promotes the empowerment of women and girls, advocates for youth engagement, and encompasses a general sustainable approach to climate action," said Ambassador Black-Layne.
Beginning in 2019, the NDC revision process  was supported by the NDC Partnership's Climate Action Enhancement Package (CAEP) with funding from the German Ministry of Environment (BMU), IRENA SIDS Lighthouses Initiative, the United Nations Development Programme's (UNDP) Climate Promise, Green Climate Fund's (GCF) Readiness Projects, and the 4th National Communications Project​​. Led by the country's UNFCCC focal point, the Department of Environment (DoE), the process was supported by an array of implementing partners through CAEP including Climate Analytics (CA), International Renewable Energy Agency (IRENA), Global Green Growth Institute (GGGI), Organisation of Eastern Caribbean States (OECS), and the United Nations Framework Convention on Climate Change Regional Collaboration Centre (UNFCCC RCC).
The Department of Environment's (DoE) leadership was supported by continuous participation from line ministries, civil society, community interest groups, and the private sector in the country. The revision process was designed to be inclusive and follow a whole-of-society and whole-of-government participatory approach to the extent permitted by the COVID-19 pandemic.
As a Party to the Paris Agreement, Antigua and Barbuda is committed to reducing greenhouse gas (GHG) emissions, although its total emissions are negligible globally and only contribute less than 0.002% of all GHG emissions. In Antigua and Barbuda, the largest source of GHG emissions comes from the power and transport sectors. Previously, the country had set a number of aspirational targets for emissions-reductions from these sectors, but as part of the 2020 revision process, the updated NDC aims to cut emissions from these sectors by developing more robust and implementable mitigation commitments.
To assess the feasibility of these goals and inform the setting of the NDC's mitigation target, CA and IRENA prepared two separate technical studies (National GHG Reduction Report and Renewable Energy Roadmap, respectively), which laid out possible pathways to achieve initial goals set before the current NDC revision cycle. This support, provided through CAEP, empowered the country to transition from aspirational to more realistic and implementable targets. Based on the energy modelling and implications of pathways laid out in the two studies, national stakeholders supported a target of "86% renewable energy from local resources in the electricity sector by 2030;" and "100% all new vehicle sales to be electric vehicles by 2030" for inclusion in the NDC. Both targets represent significantly increased ambitions compared to the first NDC. The collaborative process for developing these targets demonstrates how implementing partners can draw ideas from stakeholders, including the DoE, provide technical input, and incorporate feedback to arrive at results that inform the DoE's preparation of Antigua and Barbuda's final revised NDC targets.
Several actions have been proposed to achieve these targets, such as enhancing the legal, policy, and institutional environment for low-carbon development pathways; establishing energy-efficiency policies for vehicles and appliances; elimination of a fuel surcharge tax on electricity bills; installation of over 270 MW of renewable energy; 100% renewable energy for all government operations; 100% electric vehicles for the government vehicle fleet; and a ban on imports of new combustion engine vehicles (indicative start by 2025). If all proposed actions are implemented fully by 2030, Antigua and Barbuda could potentially exceed its ambitious 86% renewable energy target.
In recognition of equity issues related to energy transitions, the Government of Antigua and Barbuda committed to ensuring a just transition of the workforce with a strong focus on gender. As part of the NDC revision process, the Government undertook a baseline analysis to inform the framework for a just transition based on the International Labour Organization's (ILO) principles of decent work, green jobs, and sustainable development. Additionally, through CAEP, CA provided technical analysis for the NDC revision and GGGI developed an Inclusive Renewable Energy Strategy to promote socially-inclusive, gender-responsive, and accessible investment opportunities in renewable energy.
So far, Antigua and Barbuda's commitment to raising its adaptation and mitigation ambition is materializing solid results. On mitigation, Antigua and Barbuda will continue to explore options to reduce emissions in the waste and Agriculture, Forestry, and Other Land Use (AFOLU) sectors. On adaptation, the NDC commits to developing national programs for farmers, fishers, and residential and commercial business owners to cope with losses resulting from increased climate variability. With the expected increase in the frequency of extreme events, the NDC aims to increase backup renewable energy systems in 30,000 homes as a resilience measure. Antigua and Barbuda also aims to address gender implications of climate change and its disproportionate impacts on vulnerable groups through several gender-responsive mitigation and adaptation actions.
To chart a pathway for the implementation of these ambitious targets, GGGI developed an NDC Implementation Plan. It will map Antigua and Barbuda's NDC implementation by developing mitigation, adaptation, and climate-finance supporting activities, timelines, indicators, and estimated costs. The NDC Implementation Plan is expected to be continuously updated to reflect accurate national circumstances, new knowledge, and science on climate change. GGGI also developed a System Framework for the monitoring, reporting, and verification of the NDC to ensure robust processes are put in place to track progress towards all NDC goals and actions, as well as to establish the necessary  framework and tools for effective communication of NDC activities with stakeholders and the general public.
Overall, Antigua and Barbuda has made significant strides in climate action by ratcheting up its ambition with the updated NDC. In comparison to the first NDC targets that would have reduced power sector emissions by about 20%, the updated NDC includes the 86% renewable energy target for both the power and transportation sectors. The increasing viability of electric vehicles provides a clear pathway for much deeper emissions reductions, and provides potential for further resilience. Limited financial and technical capacities are still challenges to be overcome, and therefore, full implementation of the NDC is conditional on international financial support, technology transfer, capacity-building, and support to address loss and damage caused by the adverse effects of climate change. However, Antigua and Barbuda and other Small Island Developing States (SIDS) are setting the bar high for enhancing ambition globally.
The successes of SIDS will serve as important test cases for global commitments towards providing better access to finance for developing countries, large-scale adoption of renewable energy and storage technologies, and implementation of modern, and integrated energy systems. In the end, the inclusive and comprehensive processes used to develop the revised NDC in Antigua and Barbuda will also influence and inform future efforts to address mitigation, adaptation, and resilience, for all sectors of society and the economy.
"Our NDCs are strongly aligned with achieving the 1.5°C goal in the Paris Agreement of limiting global average temperature increase as we seek to address the challenges posed by human induced climate change," said Ambassador Black-Layne. "We reiterate the need for developed countries to play their part in keeping the goal of 1.5 alive."