In 2015 the world endorsed the ambitious 2030 Agenda for Sustainable Development and the landmark Paris Agreement to address climate change. In order to implement the commitments reflected in Nationally Determined Contributions (NDCs) and related Sustainable Development Goals (SDGs), countries must devise new approaches to overcome barriers that stand in the way of achieving these goals.
NDC Partnership: Fast, Effective and Ambitious
To achieve long-term climate-resilient, low-emission development, we must act now, act differently and act at scale.
The NDC Partnership is a new coalition of developed and developing countries and international institutions working together to ensure countries receive the technical and financial support they need to achieve ambitious climate and sustainable development targets as fast and effectively as possible. For these efforts to succeed, governments, international institutions and non-state actors must find new ways to share information, to learn from each other and to coordinate their actions, globally and at the country level.
Launched at COP22, the NDC Partnership's objective is to enhance cooperation so that countries have more effective access to the technical knowledge and financial support necessary to deliver on their Nationally Determined Contributions (NDCs) and related SDG commitments. There are many excellent initiatives already underway focused on supporting national climate action as well as more inclusive and sustainable development. The Partnership aims to better align these global and in-country efforts and to improve understanding of existing resources.
What We Do
In collaboration with its members, the Partnership will:
Create and disseminate insightful knowledge products that fill information and knowledge gaps. The Partnership will raise awareness of and enhance access to NDC support initiatives, best practices, analytical tools and resources. Ongoing and emerging information on specific implementation needs will be made available through online portals as well as communities of practice or networks that generate opportunities for knowledge sharing and serve to channel knowledge flows.  Peer-to-peer learning and exchanges will enable practitioners to gain confidence in what is achievable and accelerate learning curves.   
Facilitate technical assistance and capacity building. The Partnership will support countries in defining processes, policies and plans needed to advance NDC implementation, facilitate access to tailored technical assistance and knowledge sharing, and foster greater collaboration to ensure that development efforts and climate action are mutually reinforcing.
Facilitate enhanced financial support for NDC implementation. The Partnership will work with governments to better understand and address constraints to access bilateral and international NDC support programs.  The Partnership aims to align development finance more strongly and coherently with NDC implementation.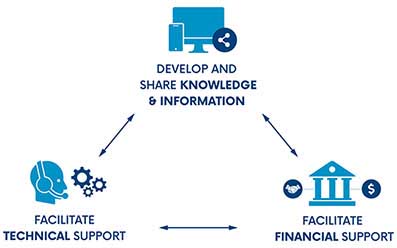 Governance
The Partnership will be guided by its members and assisted by a Support Unit hosted by World Resources Institute. The Partnership is initially co-chaired by the governments of Morocco and Germany.