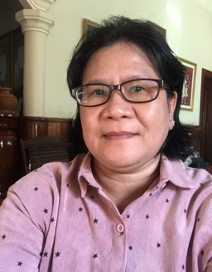 Vichet Ratha Khlok

Cambodia Facilitator
Vichet Ratha Khlok had long and extensive experience (sixteen years) in the Education Sector through holding various positions including but not limit to lecturer at the National Institute of Education and University and few private universities in the country, and then she has moved to the areas of Environment and climate change for more than 10 year thus far. She has further built her capacity on Climate Change through several in-country and oversea trainings. She has involved in Climate Change Knowledge Management, GHG Inventory and Mitigation and worked for the preparation of Cambodia first Biennial Update Report and a national coordinator for the Third National Communication. She has also involved in the preparation of Cambodia's Nationally Determined Contribution update. She is now recruited as a facilitator of the NDC Partnership.
Ms. Vichet Ratha earned her Bachelor's degree in Education from the Royal University of Phnom Penh and Master's degree in Education from Nagoya University, Japan and pursuing her Ph.D.
Join the team
Help us achieve ambitious climate goals while enhancing sustainable development.