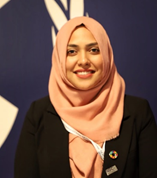 Syeda Hadika Jamshaid

Pakistan Facilitator
Syeda Hadika Jamshaid has several years of working experience in the government and development sector. She earned her Bachelor's degree in Economics and Master's degree in Political Analysis and Public Policy. Most of her work experience revolves around research, project design, stakeholder engagement, policy formulation and implementation. She also worked as the national lead on project 'Collaborative Instruments of Ambitious Climate Action (CI-ACA)' under the United Nations Framework Convention on Climate Change (UNFCCC) and the MoCC. During the first phase of the project, she collected information on GHG emissions of Pakistan and analyzed the existing policies to tackle the issue of global warming. She was the focal point for updating the project development, implementation, and monitoring for any work done under Article 6 of the Paris Agreement in Pakistan. In the second phase, she is focusing on developing an Emission Trading System in Pakistan and communicating the carbon pricing instruments to all the relevant stakeholders for better implementation. As the NDC Partnership country facilitator for Pakistan, Hadika provides institutional and technical support to the Ministry of Climate Change (MoCC) for implementing Pakistan's Nationally Determined Contributions. She assists the MoCC to liaise, as needed with representatives of industries, civil society, and government officials from other agencies and branches as well as donors involved in the Nationally Determined Contributions (NDC) implementation.
This part time position is being temporary funded by the NDC Partnership Support Unit.
Join the team
Help us achieve ambitious climate goals while enhancing sustainable development.