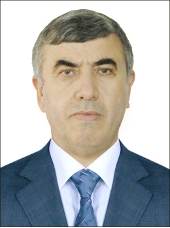 Karimjon Abdualimov

Tajikistan Facilitator
Karimjon Abdualimov is an engineer and agricultural meteorologist with experience serving in Republic of Tajikistan's Agency for Hydrometeorology and Committee on Environmental Protection. His expertise includes adaptation to climate change and sustainable development activities. Mr. Abdualimov is also a hydrometeorology specialist (covering meteorology, hydrology, glaciology, and climatology) with more than 16 years of experience working with local and national governments and NGOs in Tajikistan. He has participated in knowledge sharing exchanges in Kazakhstan, Kyrgyzstan, China, Europe, the United States and other countries regarding climate change, hydrology, environmental monitoring, and sustainable natural resource management. He also has extensive experience with donor institutions including GEF, WB, UNDP, European Union, USAID, GIZ, and GCF on various development activities assessing the impact of climate change in areas vulnerable to natural disasters.
Mr. Abdualimov served on the evaluation commission for the modernization of Tajikistan's hydro meteorological service; was a member of the coordination council for the implementation of UNDP projects on climate change in Tajikistan; and was a national consultant on the preparation of the third and fourth UNFCCC National Communications on Climate Change. He also served as a consultant for the Republic of Tajikistan's project titled "Monitoring and Preserving the Glaciers of Tajikistan for the period 2010-2030".
Mr. Abdualimov is a communicative individual, a quick learner, and open to learning and sharing knowledge. He has a keen sense of responsibility to meet deadlines and to produce materials with qualitative outputs.
Join the team
Help us achieve ambitious climate goals while enhancing sustainable development.