Palestine's Rapid Progress on Climate Action Planning Establishes its Case for Coherent Support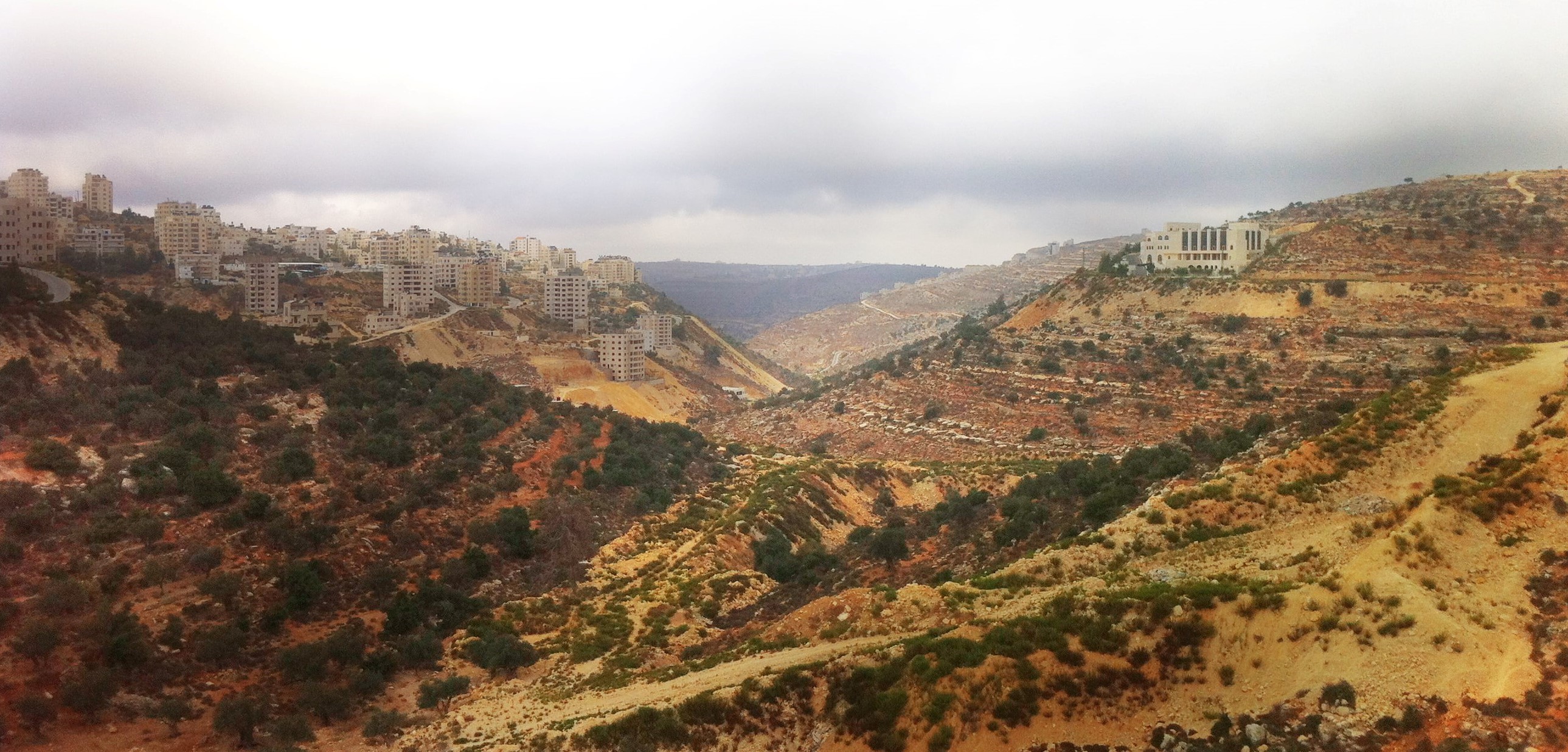 Despite the State of Palestine facing many challenges, its climate action planning has progressed rapidly with the involvement of key stakeholders, and the country has systematically assembled an unusually authoritative and coherent case for international support of subsequent implementation.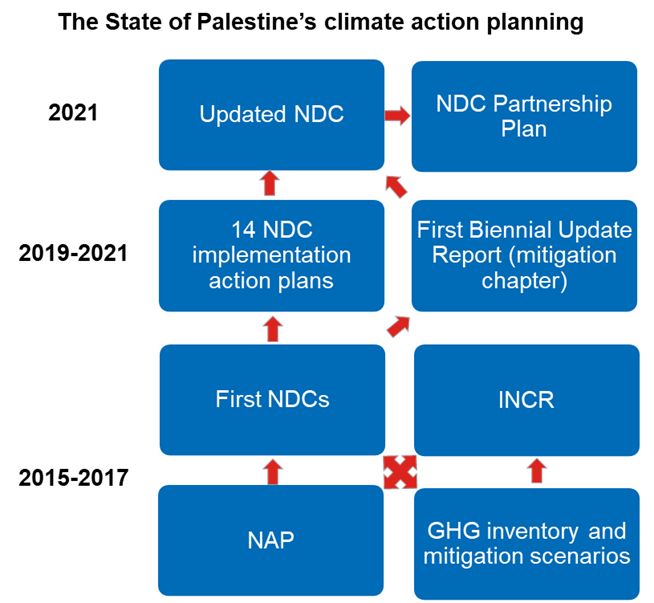 On 17 March 2016, the State of Palestine officially became the 197th party to the UN Framework Convention on Climate Change (UNFCCC) and the President signed and ratified the Paris Agreement just one month later, on 22 April. Palestine was among the first 15 countries in the world, and the first in the MENA region, to do so. It developed its greenhouse gas (GHG) inventory and mitigation scenarios and, within seven months on 11 November 2016, became only the sixth party to submit its National Adaptation Plan (NAP) to the UNFCCC together with its Initial National Communication Report (INCR). Less than a year later, the State of Palestine submitted its first Nationally Determined Contributions (NDCs) on 21 August 2017. It subsequently developed 14 NDC implementation plans across six sectors, which, together with the mitigation chapter of its first Biennial Update Report, informed development of its updated NDCs submitted to the UNFCCC on 10 October 2021 and its NDC Partnership Plan.
Palestine's Environment Quality Authority (EQA) has provided oversight of the country's climate action planning and involved key stakeholders from across government ministries, as well as from the private sector and other stakeholders. For example, more than 300 stakeholders from across 12 sectors were involved in development of the NAP. Use of systematic bottom-up approaches has ensured the salience, credibility and legitimacy of the various documents and built capacity, common understanding, and ownership. Much of the work has been facilitated by Ricardo Energy & Environment. This continuity has ensured that each new document has built upon those that precede it and there is a high degree of consistency and coherence across the documents. International funders and development partners who have supported the development of Palestine's climate action planning include the United Nations Development Programme, the Belgian Government and, over the past eighteen months, the Islamic Development Bank and World Bank under the NDC Partnership's Climate Action Enhancement Package (CAEP).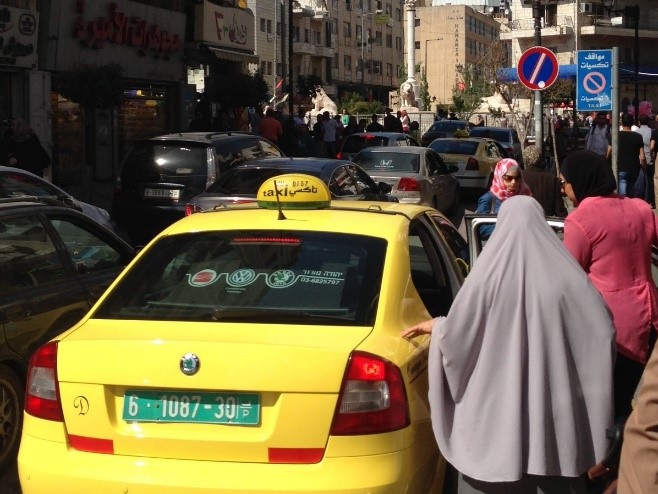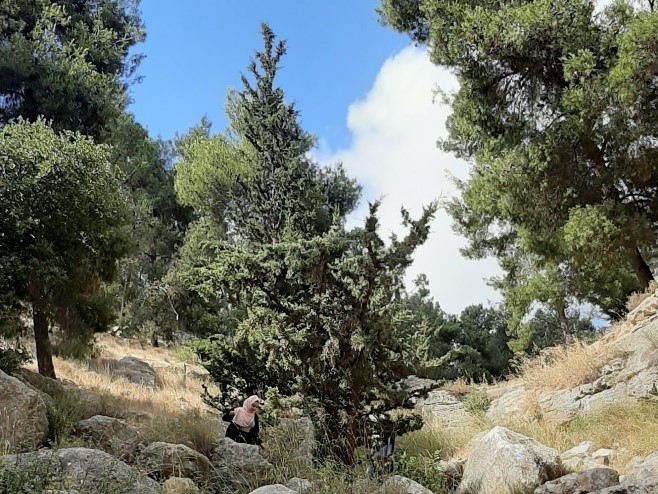 A typical busy day in Ramallah & Palestinian Rangelands
While the State of Palestine prioritises climate adaptation rather than mitigation, as a highly vulnerable country responsible for less than 0.01% of global GHG emissions, it has nevertheless still increased its mitigation ambitions in its updated NDCs. Drawing upon the 14 NDC implementation plans, Palestine's NDCs are defined by "SMART" (specific, measurable, achievable, relevant, time-bound) targets that can be implemented despite the restrictions and challenges of the occupation. The plans themselves include details about government support, benefits for climate adaptation and mitigation, capacity and technology available, activities, timeframes, indicative costs, existing funding and likely sources of funding, institutional arrangements, policy recommendations, and challenges for implementation.
Palestine will ensure equal and equitable protection of women, children, the poor, and other groups that are more vulnerable to climate change in implementing its NDCs. Gender issues are a key theme addressed in Palestine's NAP, and are subsequently mainstreamed in its NDC implementation plans.
The State of Palestine's NDCs are conditional on receiving international support. Its NDC Partnership Plan provides a synthesis of the needs (see summary table below), as a common focus intended to ensure Palestine's priorities shape funders' and development partners' support. Palestine's Partnership Plan has been circulated to the members of the NDC Partnership, who are encouraged to support implementation of key climate actions, as identified by the relevant in-country stakeholders. Matching funding has been identified in relation to existing offers from international donors, Government commitments (e.g., related to fiscal measures, acquisition of land for a new central health laboratory, staff time, and use of office space), and potential private sector investments (e.g., regarding energy generation from waste, and solar PV).

Commenting on the NDC implementation plans, updated NDC and NDC Partnership Plan, produced with CAEP support, Nedal Katbeh-Bader, Minister's Advisor for Climate Change at EQA stated: "I am confident that this step puts us on the right path to addressing all our needs connected to climate change, as well as capturing our ambition on the way forward. We look forward to translating these plans into actions with continued support from the NDC Partnership development partners and the international community."
Join the NDC Partnership Pavilion or watch online on 10 November at 14-15h (UK time) to learn more about the State of Palestine's NDC and Partnership Plan. Information about the event is available here.
This blog was written by Rachael Steller, Clémence Moinier, Richard Smithers, Mahmoud Abu-Ebid (Ricardo Energy & Environment) & Nedal Katbeh-Bader (Palestine Environment Quality Authority)