NDC Partnership Celebrates Country Progress at its One Year Anniversary and Announces Regional Hub to Support Climate Action in the Pacific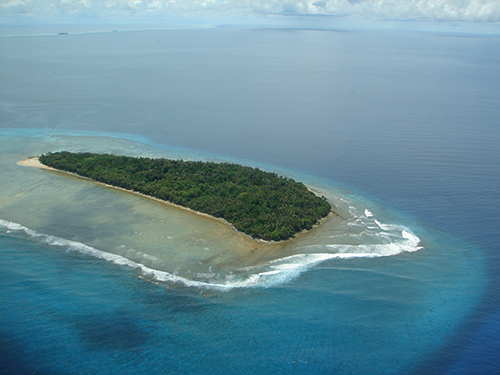 Increased support to Small Island Developing States builds on deepened engagement in 15 countries to increase efforts to tackle climate change 
Bonn (14 November 2017)—The NDC Partnership is in the process of establishing a new regional hub to support implementation of Nationally Determined Contributions (NDCs) in the Pacific. This initiative responds to the needs expressed at the Climate Action Pacific Partnership (CAPP) Conference in July 2017 by the Pacific Small Island Developing States.
The Regional Pacific NDC Hub, which was announced today at COP23 in Bonn, will be based in Suva, Fiji, and will provide expertise for developing regional solutions to mitigate global warming and enhance efforts by Pacific islands to adapt to climate change. The Hub will operate under the umbrella of the NDC Partnership—a coalition of countries and institutions dedicated to strengthening collaboration among nations to effectively implement Nationally Determined Contributions (NDCs) under the Paris Climate Agreement.
The NDC Partnership has grown to 77 members since its launch at COP22 in Marrakesh, and its members are jointly engaging to help 15 developing countries and emerging economies. This is being done within the framework of the NDC Partnership Country Engagement Strategy by providing access to technical support, finance, and knowledge products for NDC implementation. Through the Partnership, members give specific support to strengthen policy frameworks, mainstream climate actions into sectoral and sub-national plans, develop budgeting and investment plans, and build more robust monitoring and reporting systems.
"We must seize all possible opportunities to share technical knowledge and policy best practices if we are to overcome the challenges that climate change presents," said Fijian Prime Minister and COP23 President Frank Bainimarama. "We urgently need to understand what works best, and then pass that knowledge to local communities, government ministries, civic organizations, businesses, educational institutions, and concerned citizens. This is an essential part of the Grand Coalition to fight climate change. Fiji is already a hub for communications, education, technology, and commerce in the Pacific, and it is natural for us to host this NDC Hub to disseminate valuable knowledge and promote sharing among our neighbors."
"Climate change is the greatest challenge to humankind nowadays – a challenge we can only successfully tackle if we work together," said German Federal Minister for Economic Cooperation and Development, Dr. Gerd Müller. "Climate action is a must if want to safeguard former development advances as well as future development prospects. We therefore need to deepen partnerships and collaboration to achieve the goals of the Paris Agreement and of the 2030 Agenda. We need to bring climate and development together. The Regional Pacific NDC Hub is another element of our joint efforts, which my ministry is pleased to support. Through our collaboration within the NDC Partnership, we give each other confidence that the global transformation toward low-carbon and climate-resilient development is not only necessary, but also possible. This will pave the way to raising ambitions in the future."
"The NDCs are the proof of the pudding of whether we reach the target of the Paris Agreement to stay well below two degrees. We only have a chance to get there if we consequently and effectively implement current NDCs and enhance them continuously over time. This requires solidarity and support between developed and developing countries," said German Federal Minister for the Environment, Nature Conservation, Building and Nuclear Safety, Barbara Hendricks. "In the NDC Partnership, we are living this and aim at closing the gap between development assistance, finance, and climate actions. I believe this is the future we should work toward. Therefore, I am very happy about the momentum the Partnership is creating."
Through the NDC Partnership, Fiji, Mali, and Vietnam have taken specific steps to improve in-country coordination among ministries and across sectors to ensure climate action is well represented in national development planning. In Honduras and Tunisia, NDC Partnership members are working with stakeholders to develop roadmaps for NDC implementation that identify clear action steps, obstacles, and opportunities for international collaboration. Uganda and Costa Rica are working with other NDC Partnership members to make their investment and fiscal frameworks compatible to their NDCs. Honduras is the first NDC Partnership member to develop a country-driven NDC Partnership Plan.
"Once the step of ratification of the Paris Agreement is completed by most Parties, the commitments made will still need to be implemented. Therefore, more ambition from member countries and increased support to developing countries which are more vulnerable to the effects of climate change, and lacking the financial and technological means to support the effective and efficient implementation of NDCs, is needed. The Kingdom of Morocco, which co-chairs the NDC Partnership, is making more concrete contributions to South-South cooperation to strengthen collaboration among the Global South, as a complementary way to address climate change," stated Nezha El Ouafi, State Secretary in charge of sustainable development for Morocco. 
In its first year, the NDC Partnership has grown to 64 countries spanning the five regions of the world and thirteen international institutions that include UN agencies and multinational development banks. The Partnership is expanding to include non-state actors who play an important role in advancing ambitious climate and development action on the international, national, and local levels.
The Partnership supports a growing community of learning that aims to help countries share promising practices with one another and find the resources they need to achieve their goals. Since its founding in 2016, the NDC Partnership has launched three online Navigators to help countries identify funding sources, tools, guides, and support. Most recently, it launched Climate Watch with several partners, creating a comprehensive platform for climate data and visualizations to provide insights on global and national progress on climate change.
"Just one year after the Paris Agreement came into force, we are seeing countries make progress on their commitments by creating opportunities for clean energy, land restoration, and climate-smart agriculture. These countries are proving that climate action and economic growth go hand-in-hand," said Pablo Vieira, Global Director of the NDC Partnership Support Unit, which facilitates activities across the Partnership's member countries and institutions. "The NDC Partnership supports country-driven processes and works toward home grown solutions to advance ambitious NDC implementation and promote long-term sustainable development."
The NDC Partnership's global network of member countries and institutions, as well as Pacific regional experts, will be called on to provide technical support and knowledge sharing to Pacific Island Countries through the Regional Pacific NDC Hub. Assistance will focus on the sustainable energy, transport, agriculture, and forestry sectors, as well as efforts to adapt to the effects of climate change. The Regional Pacific NDC Hub will be jointly implemented by the Pacific Community (SPC) and the Secretariat of the Regional Pacific Environment (SPREP).
The Hub is a regional solution to regional challenges, owned and operated by the Pacific island region itself. The Hub is expected to become operational by May 2018.