For Interested Member Countries
To be eligible for assistance under the CAEP, requests from developing member countries should consider the following:
For Objective 1: Enhance NDCs, including by raising ambition, as part of the Paris Agreement's NDC update process
Countries requesting support for NDC enhancement should ensure that proposals are sufficiently concrete and detailed to enable assessment without further clarification. Proposals will be screened according to the following criteria: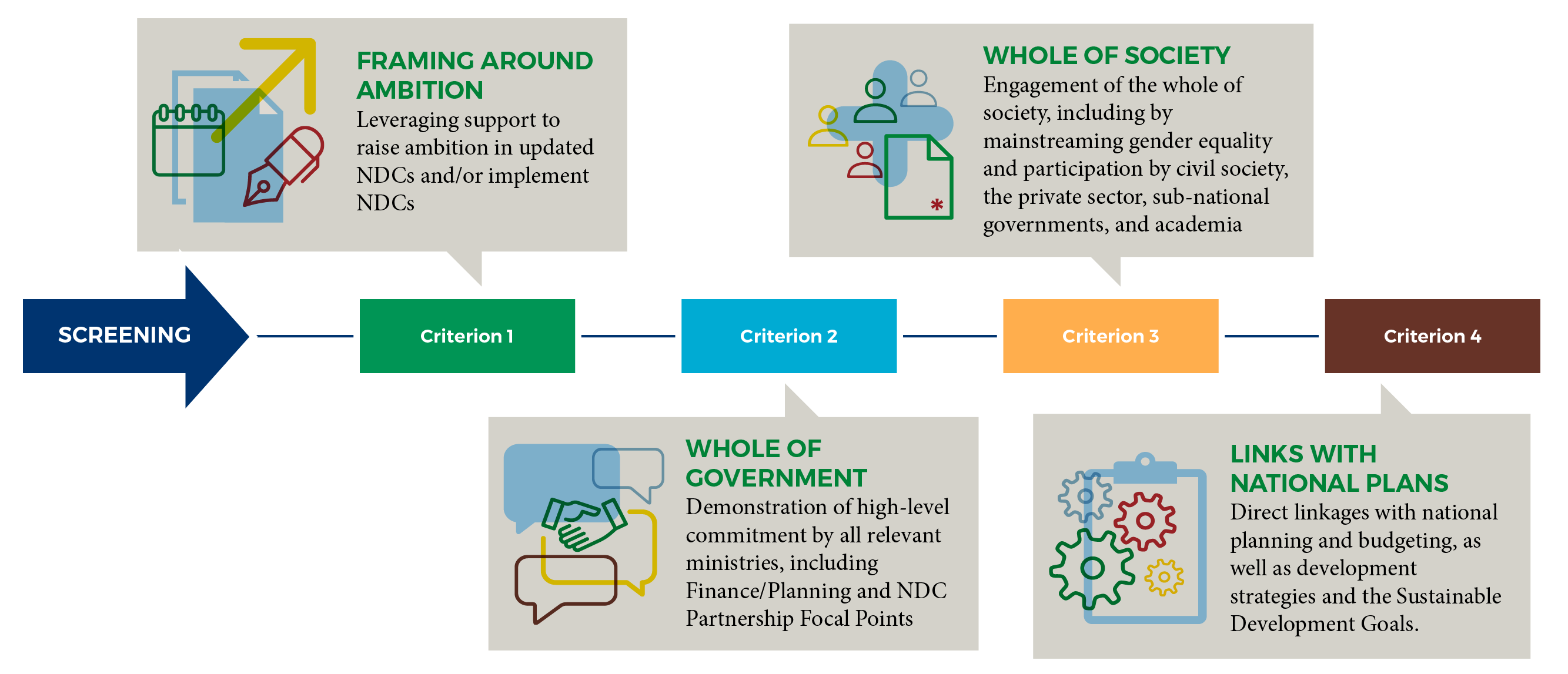 Countries are encouraged to consider the following elements to strengthen their proposal:
Evidence that the revised NDC will result in a significant positive impact on greenhouse gas emissions or significantly improve the resilience of vulnerable populations.
Existence of mid/long-term sectoral or development strategies, or 2050 pathway, and plans for aligning the revised NDC with these.
Analysis of costs and benefits using the government's macro-economic modeling or other relevant methodologies, models, or data.
Underlying data and monitoring, reporting, and verification (MRV) system.
Statement of ongoing collaboration with the NDC Partnership, based on the Country Engagement Strategy.
For Objective 2: Fast-track implementation of NDCs, including by providing in-country technical expertise and capacity building
For countries requesting support for fast-tracking NDC implementation, proposals should focus on capacity development interventions that will lead to more effective deployment of financing. These could include:
Macro-economic modeling and budgeting.
Financing strategy.
Long-term development.
Project pipeline development.
Development of financial regulations and/or instruments.
The CAEP will aim at a balance between support for mitigation- and adaptation-related activities, as well as regional distribution.
Interested countries who meet the eligibility criteria can apply beginning 30 June by completing the online CAEP Application. All requests for support must be received by Thursday, 8 August 2019.
While the Support Unit is unable to assist countries in preparing their online request form, it is available to respond to inquiries and provide guidance. Inquiries can be sent to caep@ndcpartnership.org.
A Resources page with Frequently Asked Questions is also available.
A second call for requests for support will occur in early October. A third call may take place if funds remain.
Information Sessions
Information Session for Member Countries Interested in Requesting Support
Sign-up for the NDC Partnership monthly newsletter and receive updates on country work, upcoming events, resources, and more.