Bringing Global Outcomes of the Climate Action Summit to the Country Level: Ethiopia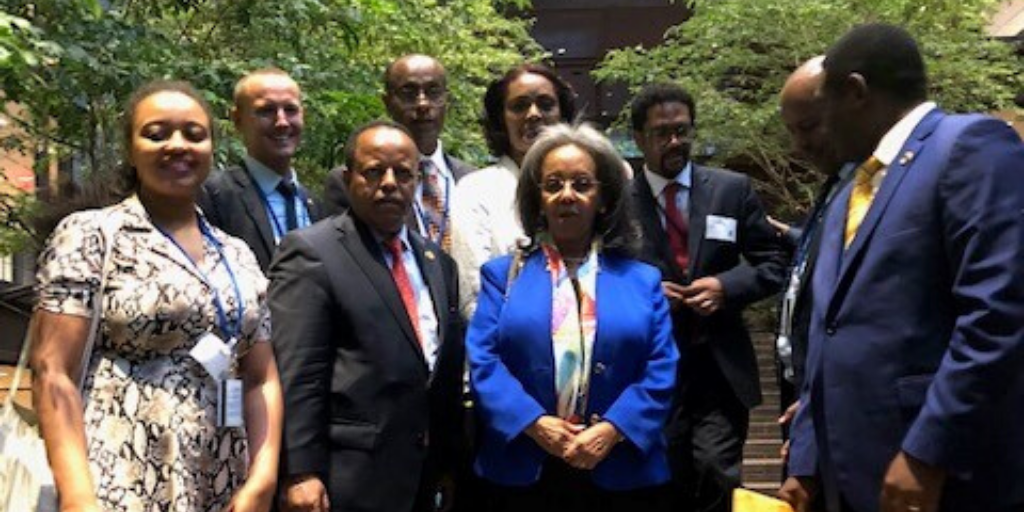 In the run-up to the UN Secretary-General's Climate Action Summit in September 2019, the NDC Partnership supported four member countries in their roles as co-leads for thematic tracks of the summit: Ethiopia (Energy Transition), Kenya (Infrastructure, Cities and Local Action), Jamaica (Climate Finance and Carbon Pricing), and the Marshall Islands (Youth and Public Mobilization). The Partnership provided support through strengthening capacity in capitals and at permanent UN missions in New York, by embedding local experts in the teams in charge of preparing for the summit. We sat down with Azeb Asnake after the summit in New York, to discuss what she sees as the summit's key outcomes in the energy transition track for Ethiopia, and how we can take these to the country level, linking them with ongoing NDC Partnership processes.
The transition of the energy sector from traditional  and unsustainable to modern and low-carbon is key to tackling climate change. The energy transition track of the UN Climate Action Summit, co-led by Ethiopia and Denmark and supported by Sustainable Energy for All (SEforALL), focused among others on solutions in renewable energy, energy efficiency, energy access, innovation, finance and investment. The day before the Climate Action Summit, the co-leads convened the Energy Action Forum, where the following initiatives and conclusions attained extensive support (see full outcome here):
Energy efficiency, renewable energy and energy access were agreed to be the key areas within which to urgently scale initiatives and where immediate action needs to be taken.
The Powering Past Coal Alliance, (PPCA) and need for divestment in fossil fuel was emphasized and Germany and Slovakia as well as several subnational actors officially joined PPCA at the Energy Action Forum.
Providing enabling policies, attracting private investments and super-charging breakthrough technologies was discussed as key drivers to accelerate the energy transition.
Supported by SEforALL, GCF, IRENA and UNDP, the Climate Investment Platform was officially launched as a global public good to help facilitate streamlined support to developing countries and emerging economies to meet climate ambitions.
For Ethiopia, the area of energy access is seen as particularly critical. One of the key principles of the 2030 Agenda is "leaving no one behind". In Least Developing Countries (LDCs), access to electricity energy is often below 40%, still leaving a large part of the population behind (UNCTAD, 2017). Sustainable Development Goal (SDG) 7 sets the target that by 2030, there is universal access to affordable, reliable and modern energy (100% energy access globally by 2030). In addition, through the LDC Renewable Energy and Energy Efficiency Initiative for Sustainable Development (LDC REEEI) the countries are aspiring to reach 100% renewable electricity by 2050, and 100% utilization of energy efficiency potentials by 2040.
A lot of work is cut out for countries and partners to reach these targets. "Taking forward the Sustainable Energy Access Initiative and moving into implementation is the main thing to look at now," says Azeb Asnake, who is supporting the Government of Ethiopia in the preparation and follow-up of the UN Climate Action Summit. "We are looking to learn from other countries, such as Kenya and Morocco, with more than 75% and 100% electricity access respectively. Morocco is not an LDC, but it is important to see how they have achieved this, and how the factor of access to finance plays a critical role in the success. Implementation is more difficult when there are bankability issues and when the private sector demands certain coverage of risks." In October 2019, the NDC Partnership organized a peer exchange in Morocco between several countries in Francophone Africa and private sector entities on scaling up renewable energy. Access to clean energy finance was one of the discussion topics, where the African Guarantee Fund highlighted that one of the obstacles to access to financing is the lack of understanding of the technicalities and risks associated with certain low carbon projects, raising the need for capacity development in green finance.
For the Sustainable Energy Access Initiative, there are several immediate next steps to move towards implementation, explains Azeb. "Ethiopia, in close collaboration with coalition member Morocco in the context of South-South cooperation, is developing an implementation roadmap and governance structure. The next step is to present the roadmap to a Steering / Advisory Committee, which is expected to be established at COP25 in Madrid. The Committee is likely to consist of a UN agency as a coordinating lead, LDCs, financial institutions, and other key stakeholders in the initiative's implementation. The Committee will support coordination and facilitate experience sharing between countries to build on global best practices. Then, the identified model(s) for achieving access to sustainable energy would be replicated and adjusted for each country context, under the leadership of their respective government." Eventually, the aim would be to implement the Sustainable Energy Access Initiative at a larger scale, reaching more people across LDCs. Most importantly, to be able to implement the initiative across all LDCs, financing and partner support would need to be identified and mobilized, for example through the Green Climate Fund.
Energy is one of the key areas that the NDC Partnership is receiving many requests for support on from member countries; 14% of all requests received by the Partnership are focused on energy (directly following AFOLU at 16%, and after multi-sector at 40%). This includes requests related to renewable energy, energy efficiency, as well as energy access. Based on the latest information on requests received by the Partnership, most energy access requests come from Anglophone Africa. Where countries have included energy access-related needs in their Partnership Plans, 28% of the requests do not yet receive partner support.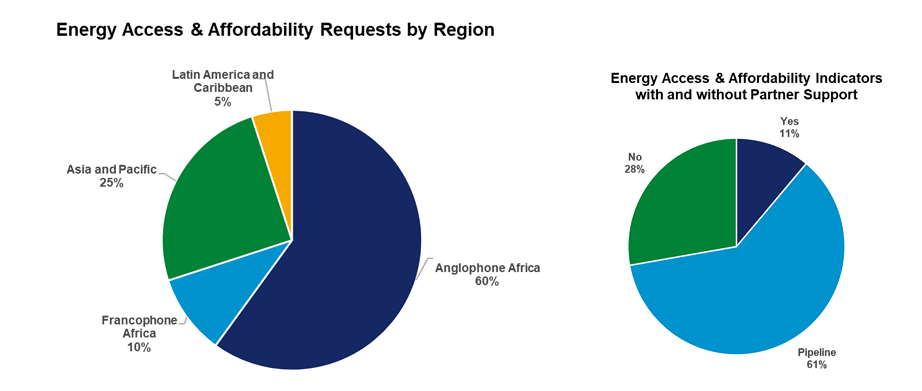 In Ethiopia, the Partnership is aligning its work on NDC implementation with the update of Ethiopia's Climate Resilient Green Economy (CRGE) strategy. On energy, Ethiopia's work on aligning energy development and NDCs has been featured in this knowledge tool. In early 2019, the government submitted a request for support letter to the NDC Partnership, outlining key NDC implementation needs in all relevant sectors including energy. Some of the identified needs for the energy sector related to energy access included support for off-grid renewable energy generation and distribution; financing of the National Electrification Program; technical support in the technology for regional and federal level experts and exposure to selected technology types such as mini-grids; and securing funding for several ready project proposals. Eleven partners responded to this initial request, and the Partnership process in-country is ongoing.
In close coordination with the CRGE assessment and update, the Partnership is currently supporting the development of an implementation framework for the NDC/CRGE, which includes draft outputs related to scaling solar water pumping for domestic use in rural areas; installing and operationalizing biogas projects at institutional, community and household level; connecting off-grid rural/urban household to electricity through grid expansion and off-grid systems; and preparation for the implementation of the Sustainable Energy Access Initiative ("Leaving no one behind").
This article was written by Ralien Bekkers, Senior Country Engagement Specialist for the NDC Partnership Support Unit. Please find here related articles on Jamaica and the Marshall Islands.