The Partnership is open to all countries as well as international institutions that are committed to ambitious NDC and related SDG implementation. Non-state actors including non-governmental organizations, development finance institutions and others are also able to participate as associate members.  Membership is voluntary and defined by support for the Partnership's guiding principles that will help orient its work and that of partners.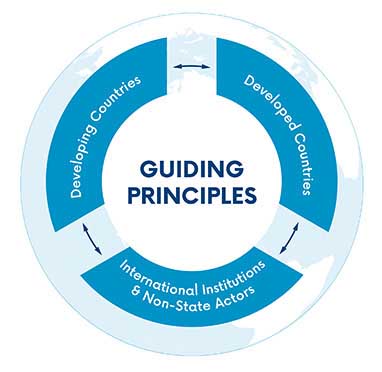 The guiding principles are:
Support country-driven processes 
Promote long-term climate action
Enhance efficiency and responsiveness 
Build in-country capacity
Improve coordination
Enhance integration into national planning
Advance adaptation and mitigation
Align development and climate change
Support multi-stakeholder engagement
Promote gender parity
Partners and How to Join
NDC Partnership welcomes the engagement of potential partners and collaborators. See the Partners page for which countries and institutions are currently involved.
To learn about how to join the Partnership, please contact us at supportunit@ndcpartnership.org.